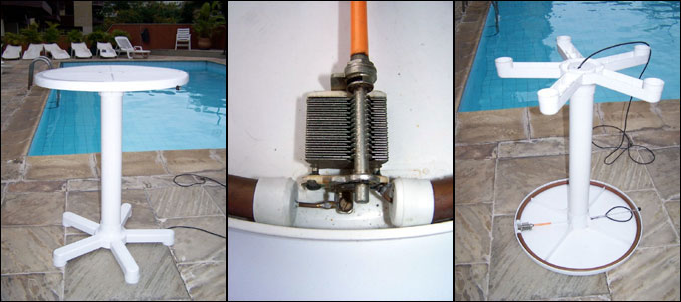 We're sure all radio amateurs must have encountered the problem faced by [Alexandre Grimberg PY1AHD] frequently enough that they nod their heads sagely. There you are, relaxing in the sun on the lounger next to the crystal-blue pool, and you fancy working a bit of DX. But the sheer horror of it all, a tower, rotator, and HF Yagi would ruin the aesthetic, so what can be done?
[Alexandre]'s solution is simple and elegant: conceal a circular magnetic loop antenna beneath the rim of a circular plastic poolside table. Construction is the usual copper pipe with a co-axial coupling loop and a large air-gapped variable capacitor, and tuning comes via a long plastic rod that emerges as a discreet knob on the opposite side of the table. It has a 10 MHz to 30 MHz bandwidth, and should provide a decent antenna for such a small space. We can't help some concern about how easy to access that capacitor is, on these antennas there is induced a surprisingly large RF voltage across its vanes, and anyone unwary enough to sit at the table to enjoy a poolside drink might suffer a nasty RF burn to the knee. Perhaps we'd go for a remotely tuned model instead, for this reason.
[Alexandre] has many unusual loop projects under his belt, as well as producing commercial loops. Most interesting to us on his YouTube feed is this one with a capacitor formed from co-axial soft drink cans.
Thanks [Geekabit] for the tip.