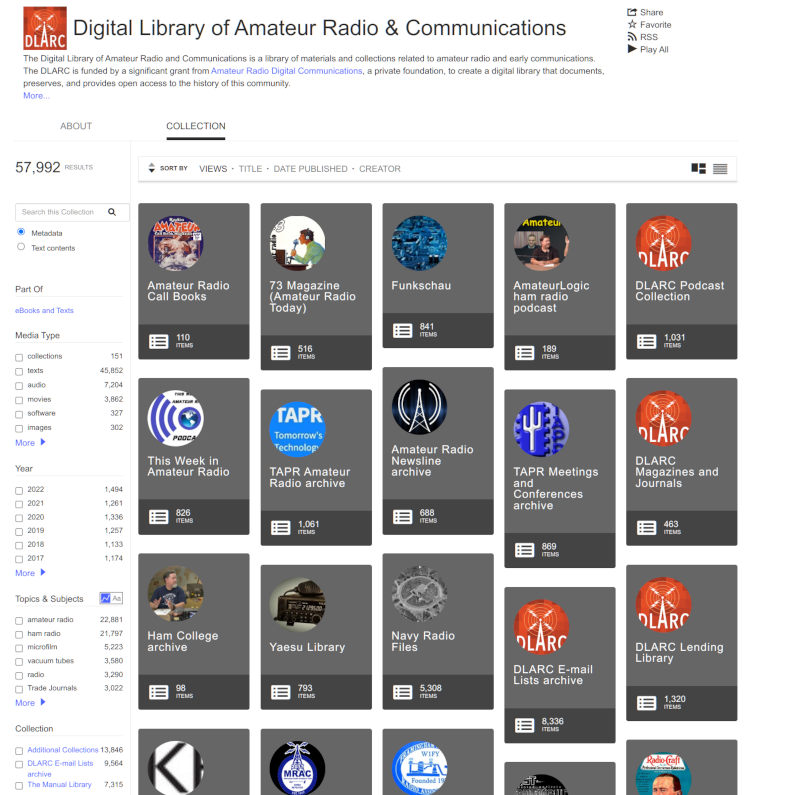 Having a big bookshelf of ham radio books and magazines used to be a point of bragging right for hams. These days, you are more likely to just browse the internet for information. But you can still have, virtually, that big shelf of old ham books, thanks to the DLARC — the digital library of Amateur Radio and Communications.
A grant from a private foundation has enable the Internet Archive to scan and index a trove of ham radio publications, including the old Callbooks, 73 Magazine, several ham radio group's newsletters from around the globe, Radio Craft, and manuals from Icom, Kenwood, Yaesu, and others.
There are some old QST magazines and the index to newer ones. You can find catalogs and military documents. We miss a lot of these old magazines and newsletters. For example, RCA's "Ham Tips" is something you won't find anything like anymore. Most of the material is in English, but there are some other languages represented. For example, the Dutch version of Popular Electronics is available. There's also material in Afrikaans, Japanese, German, and Spanish.
Some of this is only of historical interest. But some of the RF and electronic design information in here is timeless. Also, if you want to find information about that boat anchor you bought at the garage sale, this isn't a bad place to look for the original manuals. It reminded us, on a smaller scale, of the World Radio History site, where we often do research for Hackaday posts about things from the past.
Not a ham? Doesn't matter. A lot of this information is interesting to anyone who wants to know more about electronics. Then again, why aren't you? [Dan Maloney] can get you going for under $50. If you think of hams as old people banging on code keys, you might be surprised at what the modern ham station looks like.